In the state of Florida, real estate is considered an essential business so we are able to continue to help people with their housing needs. We practice social distancing and employ tools such as virtual tours, video conferencing, remote showings and digital signing whenever possible. Please know that we are still here to help you with your real estate needs!
As you are being safe, remember to be kind. Many people live alone and are lonely with the stay-at-home order in place. Many people are loosing loved ones, from both COVID-19 and NON-COVID-19 causes, at a time when mourning is difficult, large funerals impossible and even a comforting hug is forbidden. Many people are disconnected from their loved ones and can not get to them until this passes. Many people are working tirelessly to provide essential services. Please remember all of these people. A simple text, email or call can mean the world to some of them. And, kindness is always appreciated.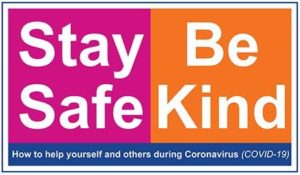 Please visit the CDC website for updates on what you can do to protect yourself and your family, as well as what you can do to help others.
For up to date information on what is happening in Florida, the Florida Department of Health's website is excellent. It allows you to access information by county and zip code in addition to statewide. It has lot of detail and provides maps and graphs.
Florida is under a statewide stay-at-home order through April 30th. For details on what you can and can not do, please visit Click Orlando.
In addition, many parts of Florida are under face cover mandates, making it necessary to cover your nose and mouth with cloth when obtaining or providing essential services in some areas and whenever you are outside your home in other areas. This is in addition to practicing social distancing. Municipalities with face covering mandates include: Miami-Dade County, Broward County, Osceola County, Fort Lauderdale, Delray Beach, Boca Raton, Key West, Plantation, Hallendale Beach, Miami, Cutler Bay, Oakland Park, Miami Beach, Homestead, North Miami, Miramar, Hialeah, Miami Gardens, Palmetto Bay. This is only a partial list, so please check with your municipality to find out what is required in your area.
Please do NOT use N95 masks, as those are needed by medical professionals. Cloth face coverings are recommended. The CDC has directions for how to make various styles of cloth masks and there are many tutorials on YouTube, including a simple tutorial from the Surgeon General.